検索
コンドミニアムの詳細& 料金の提案
予約する
ありがとうございます
Ilikai Apartment #1210
イリカイアパート1210 ラグジュアリーなオーシャンフロントコンドミニアム、オーシャン&マリーナビューの2ベッドルーム、2バスルーム、フルキッチン、バスタブ、ウォシュレット付き
2 ベッドルーム for 5 宿泊者 (最大 5)
1777 Ala Moana Blvd, Honolulu
説明
太陽に輝く海が目の前に広がり、ハワイを心行くまで堪能できる絶景オーシャンビューのお部屋です。目の前には南国の雰囲気を醸し出すマリーナも広がり、夕刻には壮大なサンセットもお楽しみ頂けます。ハワイならではの目の前に海が広がるこの景色をどうぞご満喫下さい。贅沢なハワイのひと時をお過ごし頂ける広いラナイも2つ付いているのはコーナーユニットの魅力です。キングベッドが1台、クイーンサイズベッドが1台、ツインベッドが1台のベッドが合計3台と利便性が高く、2世帯でのご家族連れはもちろんお友達グループでの滞在にもお勧めです。ケーブルテレビ、電話を完備。インターネット、wifi、市内通話が無料でご利用頂けます。こちらのお部屋は3泊からご利用頂けます。プールの施設があります。
お部屋をバーチャル体験する事ができます。こちらのURLをコピーしてご覧下さい。http://tour.all360.io/1777-ala-moana-blvd-1210-honolulu-hi-96815?o=u

Hawaii Taxpayer License #TA-016-336-8960-01
住所

1777 Ala Moana Blvd, Honolulu

駐車場

上記のお部屋の説明、及び以下の駐車場のアイコンにてご確認下さい。

フロア

12

エレベーター

あり
バスルーム

2

お部屋の広さ

1200 ft2

ベッド数、サイズ

1 King, 1 Queen, 1 Twin
このコンドミニアムのレビュー
Nice clean modern condo in a great location

Joette D. から Hunt Valley US, 19. November 2019

November, 2019日後に10日間滞在

Property was very nice. We liked the location for the trolley service out front. A few minor things: we were disappointed there were no beach chairs, umbrella or towels. For an ocean beach front property it would have been a nice plus. We recommend the owner add a bedside table lamp in the master bedroom. It is tough getting up during the night when the only light switch is on the far wall away from the bed. We did not run the air conditioning much as it seem to give off an odor. Perhaps filters need change. Still we were comfortable with the ocean breeze and they had a few fans to circulate the air without needing the ac.

Excellent experience

Zheng Y. から Shanghai China, 17. June 2019

May, 2019日後に7日間滞在

Nice view, great location

Top Notch Unit

Vancouver Canada, 26. April 2019

April, 2019日後に6日間滞在

The first thing that comes to my mind is how well this unit was maintained. The appliances are top of the line, the bathroom fixtures are high end and overall the unit is modern looking. It was clean to my standard. It was easy to book this unit because management replied and answered my inquiries within the day. I was also offered to check in at 10 am. Also, liked the keyless lock since there were three of us and we didn't need to wait for keys. I would like to point out two cons. First, it is written in bold print that there maybe a charge for laundry if we leave more than one load. There were three of us for six nights. I ended up doing doing laundry before leaving so we wouldn't get charged. I feel this is inconvenient and also we are charged $300 for cleaning fees. Also, we were asked to take out the garbage before we left and I think it said additional charges may apply if we left garbage. The garbage disposable was so full that garbage was falling out. I didn't have time to run around on others floors looking for a garbage bin. I would stay here again and recommend it.

Excellent

Zheng Y. から Shanghai China, 28. November 2018

November, 2018日後に5日間滞在

We spent 5 nights and that is the most clean condo we stayed with. Very convenient location both to Waikiki and Ala Monana Center.

Apartment 1210, great view great set up, great stay

Richard H. から Melbourne Australia, 01. October 2018

September, 2018日後に7日間滞在

Extremely clean, spacious, modern, second bedroom great idea with a queen and a single bed to accommodate for the extra person if need be. Two bathrooms a plus. Kitchen and fridge are all that you could ask for. air conditioners are very efficient and work quickly so as there is no need to leave running whilst you are out like a lot of people do, they cool down real quick, even to the point that you don't need to run during the night, at least whilst we stayed. Little extras that could be beneficial that would help all travellers are things like a bottle of cooking oil, salt & pepper was provided, but salt was out, dishwashing tablets and maybe a starter pack like water/milk and some basic fruit. This could even be an additional charge and a choice at the start to select if required.
All in all an A+ accommodation and would recommend to anyone.
a small walk to a major shopping complex just under 1 km (800 mts), Beach is reasonably close, but to get to the main beach in Waikiki it is a good 20 minute walk.

Good and not so good

Vivien C. から Remuera New Zealand, 17. August 2018

August, 2018日後に10日間滞在

First impressions were great but when our daughter and son-in-law arrived it didn't work. The second bedroom is crammed with a queen and single bed, so a tiny wardrobe and only one drawer with the sliding door to the lounge going along the foot of the bed. They had to move out so very disappointing when we wanted to be together. No cleaning service or products provided.

Absolutely Beautiful Unit and Evening Views

Benjamin O. から cottonwood heights United States, 09. April 2018

March, 2018日後に8日間滞在

I will preface this review with glowing accolades for design and decoration of the unit as well as great views off the balcony. The decor and atmosphere in the unit are very inviting and relaxing. It is also very clean and well kept. We loved the proximity to the lagoon as well as the ocean and Waikiki beach. Only a few minutes walk to the lagoon and about a 20 minute stroll down the beach to Waikiki and some great body surfing. The unit also had some great beach accessories on the balcony for use which came in really handy such as chairs, beach toys and beach umbrellas.
I said I would start this review with glowing accolades, but must now review what we did not like. I will state this part has nothing to do with the unit itself, but just the Ilikai in general. Being that the condos are getting older there are a lot of units being renovated and restored which amounts to a lot of construction noise. We unfortunately experienced this right across the hall from our unit during the week we were there. Let me tell you that jack hammering reverberations throughout a unit while on vacation is one of the quickest ways to ruin your day. Fortunately for us that only lasted 50% of our stay and the rest of the noise was just basic pounding and hammering. I will advise anyone staying not just at this unit, but the Ilikai that you ask your rental agency or owner of the condo if there will be construction near your unit prior to booking as the tenants are given notice of construction prior to work. Given our misfortune with construction Derek from Myland Realty was very prompt in coming by to see if there was anything they could do to help.
I will finalize this review with high remarks of the unit and would recommend anyone to stay here especially because construction across the hall will be completed by now. Lastly, know that parking at the Ilikai is $28 a day, but buses and trolleys from all around the island pick up here so you don't really need a car.

Property was nice but not FANTASTIC based on the price we paid

DELLA S. から Surrey Canada, 13. March 2018

March, 2018日後に7日間滞在

When we arrived there was large pile of dirt that had been swept up in the corner but not removed from the floor in the kitchen. The suite was clean, but this lack of attention to detail was somewhat disappointing.

For one night of our stay we were unable to access the suite as the batteries were dead in the door lock panel. A bit of an inconvenience as security was not able to help us. We actually had to purchase new batteries to replace in the door so we had no additional problems entering the suite during our stay. Unfortunately timing for us - might be a good idea to leave spare batteries in the suite.

Only 2 rolls of toilet paper were supplied in each bathroom, and 1 roll of paper towel. This was not enough for a family of 5 for a full week. Based on the price we paid for the week - enough of these items should have been included in the suite.

The suite description should include a note that the laundry facilities are located down the hall with the cost per wash/dry. US$5.00.

The balcony was not very clean (bird poop / sand). The lawn furniture has been aged by the sun. This is not reflected on the pictures on the website.

It would be nice if there was coffee and a few essentials included in a "welcome package" to make the first morning a bit more carefree.

It was disappointing that we were unable to use the fitness centre.

The vacuum cleaner needs to be replaced as the one provided does not work well.

The welcome letter informs you that anything beyond one load of laundry may incur additional charges. We washed ALL our bedding and towels upon leaving to avoid any charges above the already paid cleaning fee. The cleaning requests are a bit unfair considering the cleaning fee that is charged.

Overall the suite was clean, however for the cost we paid for our week stay we were a bit disappointed overall.

1210/1777 Ilikai Apartment

Deborah H. から Harkaway Australia, 11. February 2018

January, 2018日後に5日間滞在

All so easy, from booking through to arrival and departure. Great communication throughout and gorgeous apartment with all amenities as specified.


1210

LAS VEGAS United States, 26. January 2018

December, 2017日後に30日間滞在

the bathrooms need safety bars so we don't fall
the vacuum needs to work better

Amazing Ilikai Unit

Carol W. から Wellington New Zealand, 25. November 2017

November, 2017日後に18日間滞在

This unit is great and suited our family of 4 to a tee. We were in Honolulu for a family reunion and had 3 units at the Ilikai - this one was the best :) It is well equipped and the view is beyond compare.

My birthday trip...

Sherwood United States, 16. November 2017

October, 2017日後に5日間滞在

The check in process was a breeze. The unit was immaculate. The views were breath taking especially the was quiet as well which I appreciated. The kitchen was fully stocked with dishes and cooking utensils.

I did have a problem with having to provide my own toilet paper & paper towels for my week long stay. Seems petty but, had I known they only provide one roll for a week long stay then I would have brought from home. Never in my travel exp have I had to provide my own toilet paper. The welcome letter informs you that anything beyond one load of laundry may incur additional charges. So we washed our bedding and towels upon leaving to avoid any charges above the already paid $300+ plus cleaning fee. I wonder what they do then for $300 cleaning fee, lol.

Over all I loved the unit and would stay again. Just disappointed in a few issues that were new to me. I will bring toilet paper, paper towels and allow time to do their laundry before I leave.

Terry Hadaj Ilikai Condos

Adelaide Australia, 19. October 2017

October, 2017日後に10日間滞在

The property was beautiful, a little pricey but I guess that's Hawaii and the location is what you pay for. One suggestion with the money we paid for the property surely you can supply some tea bags/ instant coffee/sugar or coffee vouchers for down stairs for arrival until we get a chance to go to one of The "ABC" shops would have been nice. I couldn't believe there wasn't any salt and pepper in the apartment. We had an issue with the power, property manager was on the ball an sorted the problem within half hour of me calling them. Yes I would recommend this property, great size for families or 2 couples. Close to shops which was handy for my wife and easy to get around...

ILIKAI APT 1210

Mark L. から Romford United Kingdom, 16. October 2017

September, 2017日後に5日間滞在

Overall, a very nice stay in this apartment.All very clean and tidy
2 points to make only...unable to use fitness centre and the cleaning rates should be judged on what state the property is left in. Fee is quoted and could be higher if left in a 'dirty' state. I would like to believe we left the property in almost as clean when we arrived so feel the future of over $300 was excessive.

Fabulous Illikai in Oahu paradise

CHRISTINE H. から Hillarys Australia, 27. July 2017

July, 2017日後に10日間滞在

A spledid time was had by all family members. Location is excellent. Close enough to hustle and bustle with plenty of options to shop, dine and relax locally to Marina. Apartment 1210 is perfectly equipped, furnished and positioned for 4July VIP balcony for fireworks! Exceptional vacation. Forever memorable. Access to fitness centre would have been a bonus. Comfortable bedding, new amenities. Pool gets hectic but nearby

Perfect place

Ellen V. から Orlando United States, 17. June 2017

June, 2017日後に4日間滞在

Very well located, really comfortable beds and sheets, everything worked perfectly and very good cleaning condition. I definitely recommend this place!

Modern apartment

Nicole S. から Sydney Australia, 22. May 2017

May, 2017日後に10日間滞在

The apartment was very modern, great location (near the marina)it had all the appliances required. The only thing was there isn't a washing machine in the apartment there is one located on the floor. The view from the balcony is breath taking. We had a fabulous stay and would book this apartment again

Oahu Harbor Condo

Grand Rapids United States, 15. February 2017

January, 2017日後に3日間滞在

We had a good vacation. Stayed for 3 nights. Nice building and good location, within walking distance to beach, shopping, dining. We were under the impression that parking was included, but it was not, so valet was $28 per day. The hallway did smell rather musty. The unit was very nice and comfortable. Good beds and nice lanai with beautiful view. The warmers on the toilets were nice. The battery in the smoke detector died in the middle of the night. It was continually chirping and we had to disconnect it from the wall because there was no 9V battery to replace it. Overall, a good stay, but a little pricey.

Amazing apartment with stunning views

Emma F. から Port Lincoln Australia, 16. November 2016

November, 2016日後に6日間滞在

This apartment was perfect. Exactly like it shows in the pictures.
Often pictures look better than the real thing.
Not in this case. Everything was catered for & the views were stunning.
Booking was easy & check in too.
Very happy with the apartment & recommend to every one

Pleasant Stay

Salzkotten Germany, 07. November 2016

October, 2016日後に14日間滞在

Ilikai is a great location for your holidays in Waikiki. Especially if you stay in an apartment with a view over the marina and the blue water of the ocean. It is simply awsome!

A great place to stay!

Robert B. から Kapaa United States, 18. October 2016

October, 2016日後に3日間滞在

We enjoyed a three night stay here. Apartment was immaculate, beautifully decorated and exactly as pictured. Wonderfully comfortable beds high quality furnishings. Great location, bus and trolley stops right outside property. Lanai perfect for enjoying sunset and early morning coffee. Would absolutely stay here again.

Waikiki vacation

Richard A. から San Antonio United States, 27. September 2016

September, 2016日後に6日間滞在

Overall, our stay at this location was excellent. Very friendly and accommodating staff. Great location near the beach and shopping centers and restaurants. The room was upgraded from top to bottom with modern appliances and decor. Huge balconies to enjoy the beach and marina views and cold AC.

My only complaint is that the master bedroom has a door that locks and no key is provided. We accidentally locked the door and had to pay $125 for a locksmith. Still trying to recover that extra cost.

Other than that, i would stay there again.
チェックイン/アウト
チェックイン時間は15:00からです。(状況により早く入室できる場合があります。) また、チェックイン時に弊社スタッフとの待ち合わせが必要な物件に関しては最終チェックイン時間を午後5時までさせて頂きます。 チェックアウト時間は10:00です。(時間厳守でお願い致します。) それより遅い時間のチェックアウトは事前にお申し込み頂ければの追加料金にて承ります。
アメニティ
アメニティ
アメニティ
このコンドミニアムのアメニティのリスト
このコンドミニアムのアメニティのリスト
Arrival day

flexible

Dining

Dining Area

お部屋タイプ

bedroom

アウトドア

ビーチ, ラナイ, 公共のプール

アトラクション

コインランドリー, レストラン

アメニティ

アイロン&アイロン台, インターネット, エアコン, エレベーター, タオル, ヘアードライヤー, リネン類, リビングルーム, 電話

エンターテイメント

ケーブルテレビ, テレビ, 衛星/ケーブルテレビ

キッチン

お皿、グラス類, お皿類、ナイフ、フォーク、スプーン、, オーブン, キッチン, コーヒーメーカー, トースター, フルキッチン, レンジ, 冷蔵庫, 炊飯器, 調理用具, 鍋/フライパン, 電子レンジ, 食洗器
ビジネス

近くにATM, 近くに郵便局

ビュー

オーシャンビュー

プール・スパ

プール

ベッドルーム・ バスルーム

トイレ

リビング

アイロン台, インターネット, エアコン, テレビ, ヘアドライヤー, リネン類, 電話

ルール

ペット禁止, 禁煙

ロケーション

オーシャンビュー, ビーチビュー, 海の近く

ローカルサービス&ビジネス

コインランドリー, 近くにATM/銀行, 近くにスーパー

利便性

コインランドリー, 近くにスーパー, 近くに医療施設

地理的な

ビーチの近く

屋外

Balcony
間取図
間取図 この物件の大まかな間取図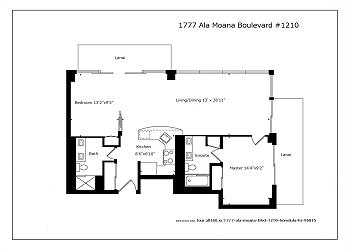 | | |
| --- | --- |
| Room | 部屋 |
| Hall | ホール |
| Kitchen | キッチン |
| Living-room | リビングルーム |
| Bathroom | バスルーム |
| Shower room | シャワールーム |
| Balcony | バルコニー |
| Terrace | テラス |
| Cloakroom | クロークルーム |
| Single Bed | シングルベッド |
| Double bed | ダブルベッド |
| Twin bed(s) | ツインベッド |
| Sleeper Sofa | ソファーベッド |
| Mezzanine bed (usually a mattress on a wooden parquet) | 中二階のベッド(通常は木製の寄せ木細工上のマットレス) |